Visionaries + Voices
Collaboration with V+V artists to create light up puppets and costumes for the BLINK parade
2017
Giant Kites in Price Hill
Inspired by Guatemalan barriletes that are flown during Día de Todos los Santos
In partnership with Price Hill Will
2016 + 2017
A free two-day workshop took place at The Warsaw Avenue Firehouse. Together, children and adults from the community came and decorated the giant kites with tissue paper. During the second workshop, we made smaller individual kites, built the structures for the giant kites, and attached the paper to the frames. Everyone wrote messages and attached them to the tail of one of the giant kites to send into the sky. Then, we paraded across the street and flew the kites at Dempsey Park in Price Hill.
photo by Lisa Tompkins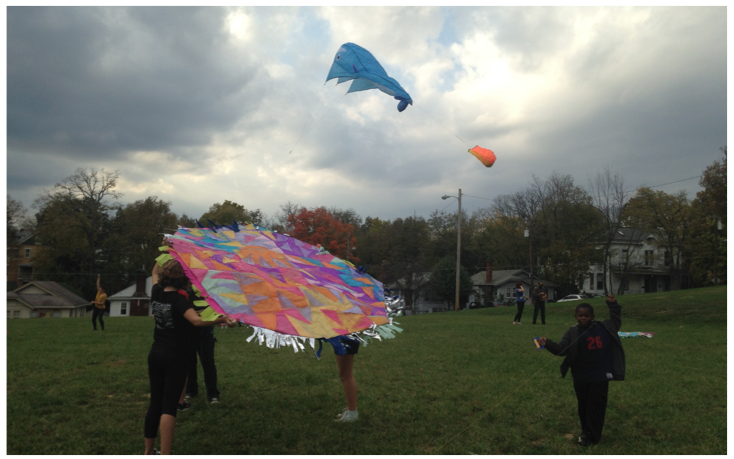 LAS ALFOMBRAS
In partnership with Price Hill Will
2016 + 2017 + 2018
For this celebration, community members created giant bugs, flowers, and birds to celebrate spring. With handmade instruments and noisemakers, we paraded around the neighborhood.
photo by Eddy Kwon
Screen printing workshops
In partnership with Price Hill Creative Community Festival, Price Hill Artists-Share-What-You-Know, Visionaries + Voices, and MYCincinnati Ambassador Ensemble
flying Creature Puppet Workshops
In partnership with the Cincinnati Museum Center and V+V's Visionarium
2018